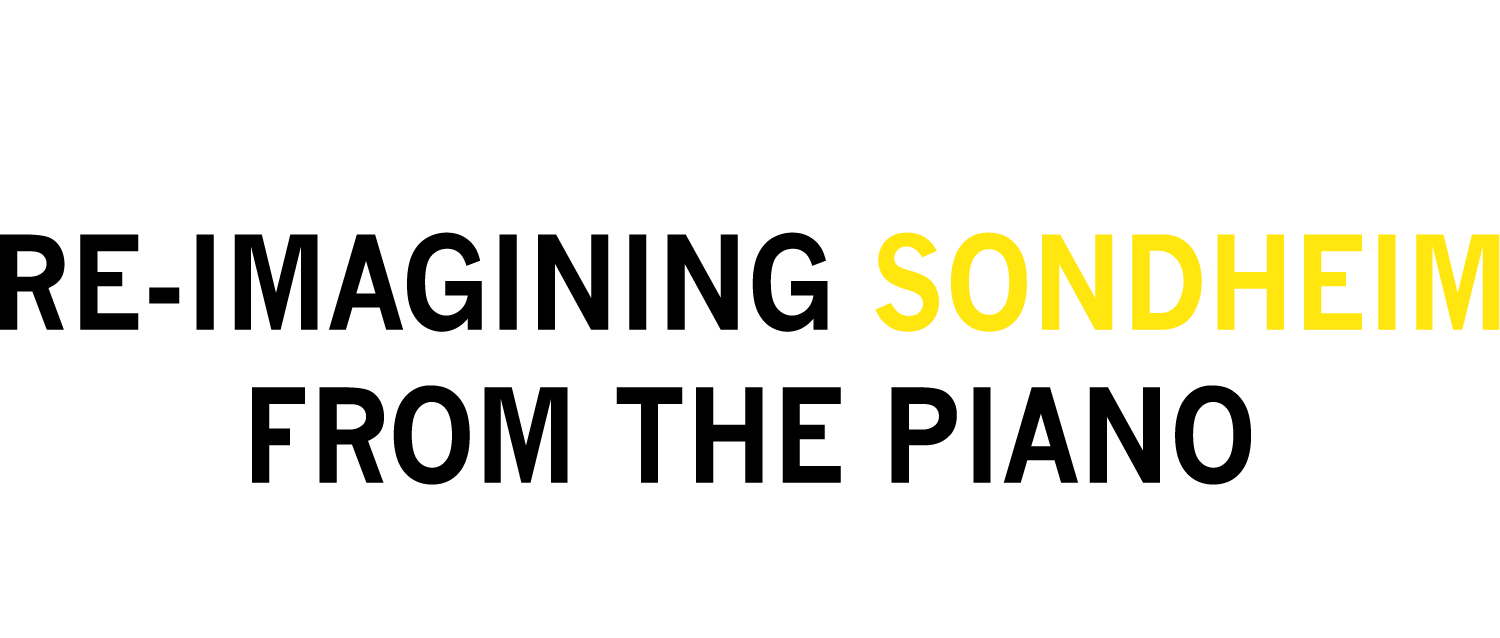 "To hear composers take my work and take it seriously... it's a thrill."
– Stephen Sondheim

Conceived by acclaimed concert pianist Anthony de Mare, LIAISONS: Re-Imagining Sondheim from the Piano is a landmark commissioning and concert project based on the songs of legendary musical theater composer Stephen Sondheim. Through the Project, de Mare has created a remarkable compendium of new music that breaks open the boundaries between musical theater and concert music and makes the case for Sondheim as one of the 20th century's most influential composers.

The original project brought together 36 of the world's leading composers of classical, jazz, film, pop, and musical theater to re-imagine one of Sondheim's songs as a solo piano piece. De Mare premiered the pieces in national concerts spanning a three-year period, culminating in a sold-out 3-concert series at Birdland, The Sheen Center, and Symphony Space. ECM Records released the entire compendium in 2015 as a 3-CD boxed set in 2015 on the prestigious New Series label. De Mare has concertized the Project across the country and around the world, including dates in Australia, Cuba, the U.K., and Italy.

In honor of Sondheim's 90th birthday in 2020, de Mare and producer Rachel Colbert commissioned 14 new pieces as a coda to the original. Suspended due to the pandemic, they are now scheduled to premiere in New York City across two concerts at Merkin Hall in November 2021 and March 2021. (See CONCERTS page for more details). The new composers are: Timo Andres, Jon Batiste, Jeff Beal, Mark Bennett, Christopher Cerrone, Ted Hearne, Stephen Hough, Meredith Monk, Paola Prestini, Kevin Puts, Max Richter, Marc Schubring, Conrad Tao, and a new piece by de Mare himself.

LIAISONS is an homage and a celebration of Sondheim's music - as worthy of the concert hall as the Broadway stage - but also his indelible influence on contemporary composers. Ranging in age from 24 to 80, and hailing from seven different countries, the Liaisons roster represents multiple Grammy, Oscar, Emmy, and Tony Awards winners and an astounding array of Pulitzer Prizes, MacArthur "Genius" Awards, Rome Prizes, and National Medal of Arts winners.

The complete folio of LIAISONS scores was published in the spring of 2017 and is now available from Hal Leonard; Mr. de Mare continues to perform from the collection in major cities, concert halls, and festivals around the world.

April 2012
"Not just inventive piano arrangements of the songs but new compositions written in the composers' own styles... it was fascinating to hear how each composer approached the song. Mr. de Mare's playing was dynamic and stylish, requiring formidable virtuosity... I loved it. "
Anthony Tommasinithe New York Times
read more
August 2014
"It's not just that many of the individual new works are so appealing. It's that de Mare's passion and vision almost radiate from the stage. He underscores the serious nature of Sondheim's musical accomplishment, and he causes all involved — composers, performer and audience members — to think about how music is made and how we listen to it."
Andrew Patner
The Chicago Sun-Times
read more
August 2013
"After seeing de Mare's triumphant performance, we definitely want to gain a deeper knowledge of the musicals. Moreover, we were impressed by de Mare's ability to master everything from the most pyrotechnical classical compositions to the suave style of the jazz works..."
Viola de Voce
The Contrapuntist
read more
March 2013
" An adventurous project... Mr. de Mare performed with vivid commitment throughout, fully plumbing the nuances of each work. "
Vivien Schweitzer
the New York Times
read more
September 2012
"De Mare is a dynamic pianist, with technique and musicianship to burn. For those who love Sondheim and are interested in hearing new work from a variety of contemporary composers, [Liaisons is] a must-see occasion.
Bob Ashby
ShowBiz Radio, Washington DC
read more
September 2012
"The variety of the settings kept the audience engaged, and de Mare was formidable throughout. The evening was a refreshing alternative to the typical recital, and successfully promoted Sondheim's legacy as well...
Ruth Carver
KC Metro
read more
June 2012
"A thrilling program… filled with surprise and inventiveness."
Andy Propst
The Sondheim Review
May 2012
"The concert offered a wide range of compositional styles and moods, highly colorful, and superbly played by de Mare.
C. Curtis-Smith
M Live
read more
March 2012
"Liaisons is a revelation… a delightful recital with an exuberant close. De Mare's playing was superb throughout, a combination of lyrical reflection and extroverted pyrotechnics."
Joshua Kosman
The San Francisco Chronicle
read more
February 2012
"Just when you thought that there wasn't anything new in piano recitals anymore, along comes Anthony de Mare … a first-class pianist whose list of composer friends is a virtual who's who of American music… each piece is a fascinating exploration of the composer's style."
Gregory Isaacs
The Fort Worth Star Telegram
read more
January 2012
"The ambitious endeavor of Anthony de Mare to create liaisons between musical theater and so-called "art-music" brings out his formidable piano technique and his charming, easy manner."
Uel Wade
Sqwak.Com
read more
August 2011
"If anyone still doubted Sondheim's prowess as an instrumental composer, this project should firmly lay those doubts to rest… de Mare's concert kicked off energetically and his illuminating stage comments relaxed the atmosphere."
Brett Campbell
Oregon ArtsWatch
read more
"The ambitious endeavor of Anthony de Mare to create liaisons between musical theater and so-called "art-music" brings out his formidable piano technique and his charming, easy manner."
Uel Wade
Sqwak.Com, Hudson NY

ANTHONY DE MARE is one of the world's foremost champions of contemporary music. He pioneered the genre of the speaking-singing pianist nearly 25 years ago with the premiere of Frederic Rzewski's groundbreaking De Profundis, and his versatility has inspired the creation of over 60 new works by distinguished artists including Meredith Monk, David del Tredici, Paul Moravec, Aaron Jay Kernis, Fred Hersch and Jerome Kitzke. With Liaisons he has added another 27 composers to the list of those he has commissioned, and another 36 compositions to the contemporary piano repertoire. Since his 1986 debut with Young Concert Artists, de Mare's performances have spanned five continents and 25 countries; his discography includes twenty recordings on Innova, Koch (E1) and CRI/New World and ECM Records. Mr. de Mare is a Steinway artist and serves as Professor of Piano on the faculties of Manhattan School of Music and New York University. anthonydemare.com

STEPHEN SONDHEIM is widely acknowledged as the most innovative and influential composer and lyricist in modern Broadway history. Accolades include eight Tony Awards including one for Lifetime Achievement (more than any other composer), an Academy Award, a Pulitzer Prize, a special Olivier Award, a National Medal of Arts and multiple Grammy and Drama Desk awards. His best-known works as composer and lyricist include A Funny Thing Happened on the Way to the Forum, Company, Follies, A Little Night Music, Sweeney Todd, Sunday in the Park with George and Into the Woods. He wrote the lyrics for West Side Story and Gypsy and composed film scores for Stavisky, Reds and Dick Tracy among others. His collected lyrics with attendant essays were published by Knopf in two volumes: "Finishing the Hat" (2010) and "Look, I Made A Hat" (2011). Sondheim.org

RACHEL COLBERT is an independent producer, development consultant, and project manager for artists and cultural organizations in New York City.


"An astonishing three-CD recording..."
- Jesse Green, NY Magazine

"A starry who's who of the contemporary music world... Each composer was asked to do a free treatment of a Sondheim song, and the results - on this irresistible new CD set – are little short of breathtaking… the whole undertaking is a triumph."
- Joshua Kosman, San Francisco Chronicle

"Background music this is not. De Mare renders lyricism with a dreamy, even gossamer touch; in rambunctious numbers, he goes gorgeously bananas. Yet even the wildest inventions never obscure our octogenarian wunderkind of the American musical... what De Mare hath wrought, with the help of his many collaborators, adds up a collective Goldberg Variations for Sondheim."
- Matthew Gruewitsch, Pundicity


Thank you for your interest in LIAISONS. Did you know that we're a nonprofit enterprise entirely made possible by the generosity of individual donors? It was donations that enabled us to commission the composers and record the album. But there's more to do - we are still raising funds for three key components: to complete filming and editing archival interviews with all the composers, to continue touring the concerts in this country and abroad, and to cover the cost of marketing and publicity for the upcoming concerts. Please join us!

Donations are tax-deductible and can be made through Fractured Atlas:





We are deeply grateful to the following donors for their support of LIAISONS (as of May 2019 - BOLD indicates a commissioner):

The 92nd Street Y • Ryan Anderson • Celia Asbell • Banff Centre • Steven Bell • Derek Bermel • Sue Renee Bernstein • Martin Blanco • Roxanne And Scott Bok • John Brennan •Sammy Buck • Daniel Chadburn • Jenny Chai • The Clarice Smith Performing Arts Center • Mary Ellen Clark • Joachim Coghlan • Zachary Cohn • Jeannie Colbert • Gilbert Cole • Philip Crosby • Anne De Mare, Viola De Mare, and Elaine Reed • Alek Deva • Beth Rudin Dewoody • Erika Dohi • Arthur Don • George Dougherty • Andrew Duxbury • Kirsten Egenes • Stuart Evans • Karl Maria Fattig • Thomas G Felt • Illya Filshtinskiy • Charles Finn • William Fletcher • The Gilmore Keyboard Festival • Heather And Justin Frank, MD • Shelly Freeman • Dan Gallagher and Peter Shearer • Craig Glenday • Frank Godchaux and Mark Murashige• Harold Gray • Amy Gustafson • Michael Halberstam • Jefrey Hall-Flavin • Shelly Freeman • Samantha Harris • Sharonne Hayes • Jean Heins • Paul Henderson • Isabel Hernandez-Cata • William Hill • Elisabeth Ho • Paul Hogarth • Mark Horowitz • David Humphrey • Richard Hurst • Rika Iino • Ed Sylvanus Iskandar • Jewish Communal Fund • Sarah Johnson • Ellen Krupa • Earl Kunz • Paul Lazarus • Gary Ledet • Thomas Leonard • David Levy • Louis C Liberatore • Bob And Anna Livingston • Robert Lobiondo • Raymond Longa • Paul Maggio • Steven Mann • Barbara Marcin Ullman • James and Ellen Marcus • Ellen Marcus • Michael Marton • Jill Matichak • Michael McElroy • John McKeever • David McMullen • William Merrill • Solomon Mikowsky • Ann Miner • Evan Mirapaul • Matthew Mirapaul • Ashil Mistry • Elliot Mitchell • Fran Morris Rosman • Martin L. And Lucy Miller Murray • Alexandra Murray-Duffy • Dr. Jeffrey A. Naidtich • Nicholas Nash • Ian Nisbet • Gerd Nowaczyk • Catherine Oconnor • Jonah Orlofsky • Stephen Ortiz • Cormac Ose • Carol Ostrow • Robert Paterson • Perry And Martin Granoff • Daniel Petry • Lex Poppens • David Rakowski • Anthony Razzano • Mark Redanty • Benjamin and Donna Rosen • Tamar Rozin Muskal • Wally Rubin • The May and Samuel Rudin Foundation • Anthony Ruth • Eleanor Shakin • Steven Shankroff • The Schubert Club • David and Alice Shearer • Peter Shearer • Ted And Mary Jo Shen • The Shen Family Foundation • Scott Smith • William S Smoot • Annaliese Soros • Tom Spain • Bernadette Speach • Stonewall Community Foundation • Andrei Strizek • Richard and Linda J. Sweetnam • Carmen H. Tellez • William E. Terry • April M Thibeault • Gabriel Tsai • UCLA Center for the Art of Performance• Paul Upham • William Upham • The Ursetti Family • Douglas Van Epps • C. Vogel • Robert Weirich • Morton Weisman • Emmeline Wexer • William White • Patrick Willingham • Walt Winnowski • Cary Wong • Raymond Wong • Anonymous (21)




Individual pieces from the Liaisons repertoire can be combined to form an infinite variety of programs that appeal to audiences of all backgrounds, from recital series and festivals to student unions and music departments. Mr. de Mare works with each venue to tailor a program best suited to their audience and presenting needs.

Single programs last from 60-90 minutes and contain approximately 11-14 pieces. As many as three fully distinct programs can be performed consecutively. Mr. de Mare delivers brief commentary between pieces, and multi-media components are also available that complement and contextualize the performance. These include background slides with animated text, audio clips from interviews with the composers, and an edited 4-minute filmed of Sondheim's live onstage interview at the NYC premiere. 

The multimedia component is delivered as a specially created integrated Flash program; technical requirements are a projector with a DVI, HDMI or VGA input and/or connection to a computer running Windows XP (or later) or Mac OS X. In addition, three pieces require CD or mp3 playback along with a stage audio monitor for the performer: Steve Reich's Finishing the Hat, Jason Robert Brown's Birds of Victorian England and Duncan Sheik's Johanna... in space.

A master teacher and lecturer, Mr. de Mare can offer residencies and lectures as well as day-, week- or semester-long curricula based on Liaisons material.